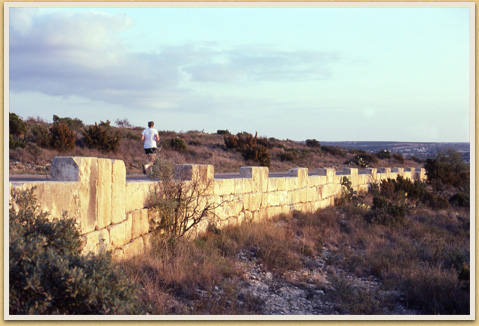 Big Spring
Centuries ago plentiful spring water amid the arid Texas Plains began attracting visitors--Native Americans and Spanish explorers alike--to the majestic Scenic Mountain. During the Great Depression, CCC Company 1857 (described by NPS Superintendent Thompson Richardson as "poor but fine boys") transformed some 300 acres of rough country into a state park gem. Quarrying native limestone from the park itself, the CCC enrollees followed the designs of engineer V. J. Eckelkamp, architect Joseph Dodge, and landscape architect Harry Newton, constructing the residence and concession buildings as well as the open-air group pavilion, restrooms, and picnic tables.
Most spectacular of all is the design and construction of the three-mile Park Road 8 scenic loop, often referred to as the Roman Road. The lane spirals up around the mountain to the 2,811-foot-high summit, giving visitors grand views of West Texas plains along the way. Lined by immense hand-shaped stone blocks, the road and native-limestone structures fit impressively within the area's backdrop of mesquite, shin oak, and redberry juniper.
Previously Big Spring State Park was named Edwards Monument Park.
Park Location

Howard County, within city limits of Big Spring, west on FM 700 to Scenic Drive

CCC Company

1857

Activity Dates

1934-1935

CCC Construction

Entrance Portals, Park Road 8, Culverts, Bridges, Concession Building (currently park offices), Keeper's Dwelling, Stone Pavilion, Restrooms, Picnic Tables, Stone Steps, and Retaining Walls. An amphitheater was designed, started, but not completed. A Stone Pump House and a Water Tank Topped by a Roof Garden were designed but not built.

Learn More